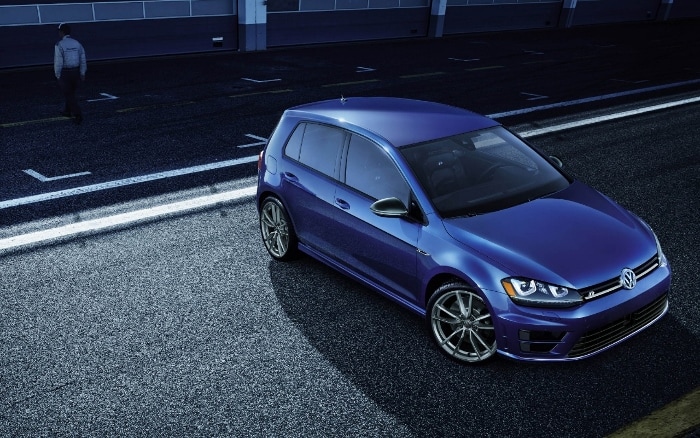 With some auto brands, your transmission choices are an automatic and…an automatic. Not so with the VW brand, which understands that the transmission is an integral part of the driving experience, and that different drivers have different tastes when it comes to their car's gearbox.
For example, visit Owings Mills Volkswagen serving Towson, MD and slide behind the wheel of a Volkswagen Golf-R. This "Car of the Year" finalist, unparalleled in the hatchback segment, is a thrill to drive – and a big reason why is its transmission. Buyers have two choices: a standard six-speed manual transmission or an optional, performance-enhancing six-speed dual-clutch automatic transmission (DSG). The six-speed manual gearbox is "old-school" driving at its finest: six gears + reverse, all driver-selectable. Just depress the clutch, find your gear, and get moving. A manual transmission is easy, reliable, and inexpensive to repair, thanks to its durable construction. Acceleration and fuel economy are solid too.
Six-speed dual-clutch automatic transmissions, particularly the VW brand's DSG, have increased in popularity over the last few years. These hybrid automatic/manual gearboxes don't have a clutch – instead, the driver shifts through the gears using easily-accessible paddle shifters mounted to the steering wheel. The DSG's advancements are such that the Volkswagen Golf R model's shifts are so fast as to be barely noticeable, and this innovative transmission is a big reason why this class-leading hatchback accelerates from 0 - 60 in five seconds flat.
If you're eyeing a Volkswagen Jetta near Baltimore, MD, you'll have three transmissions to choose from: a DSG, a five-speed manual, and a six-speed automatic. The latter gearbox requires the least driver input – in fact, an onboard computer handles all shifting via an analysis of car speed, engine speed, and other variables.
Stop by today and sample all the VW transmissions you like!